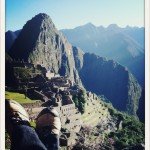 Saludos Creativas!
If you live in the Northern Hemisphere it is SUMMER round these parts, the season most frequently associated with vacations.  Except when you grow up and have a real job or three, they become harder and harder to take.  I was lucky enough to spend most of my July either camping or getting to know the area around Cusco, Peru.  Northern California rivers or Andean mountains.  Deeeeeelightful.
Start with a smile, follow up with 'can I help you'
Smiles people.  They go a long way to communicating. I am always reminded of this lesson, (and how powerful my own is) when I'm far from home.  It's the gateway to communication.  The second part, is offering to help.  A simple 'can I help you with that' goes a long way towards showing respect, openness, and an ability to meet people where they're at.  Especially if you're not from around these parts, offering to bear the load, or get your hands dirty, is an amazingly effective gateway.  Offer of yourself before asking from other people.  Works in all kinds of situations, not just Andean home-stays.
Woodcutting, it's all in the flow
I received a lesson in chopping wood this summer.  The real take-away is it's all in the flow.  You line up the wood, find the grain so your chopping with it, place your hands at the right spot on the axe, plant your legs, raise the axe up and let gravity and flow take care of the rest.  You do remarkably little, your real job is to place the axe and wood on a collision course.   Yeah sometimes there are gnarly pieces that require more muscle force, but the lions share was able to be chopped by little ole me using the force.  (yeah, I know I'm not an actual jedi, but it was fun to play!)
This got me thinking about obliterating obstacles and how much we an really force vs. aligning ourselves and letting the flow and force take care of the rest.  Sometimes we try to muscle through something that might be easier solved with lining up the strong and weak parts and letting flow take over.  What if we focused more on alignment and less on force?  I feel like that would open up so many different doors.
It's about relationships
Who you're with matters.  The journey is all well and good, but it's who you're with that brings extra zest, spice and energy to the journey and potentially, destination.  Who you choose to spend your time with and connect your heart to, personally and professionally, can be an unending energy source.  We're social creatures, and by building strong interpersonal relationships, we give ourselves the opportunity to be even more successful than we are individually.   It's an exponential win-win.
At the end of the day, you're not thinking about the boxes checked off your to-do list, or the fabulous way you finished that project.  You're thinking of the relationships you've made, and the love you've shared.  Open your heart and be strengthened.
Have you got to take a vacation yet this year? What did you learn? Share below!  It's a fabulous way to start building relationships with like-minded powerhouses who hang out here 🙂
Ellen Ercolini is a life and career coach dedicated to helping you figure our your life passion and purpose, so you can have the profession (and profits!) you want.  Curious how she can impact your life? Schedule a free superhero session with her here.