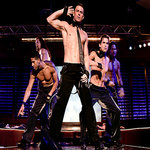 Oh dear…have you seen Magic Mike yet? It's….good.  And not just for the greased up mancandy, for the plot yo!  Soderbergh knows what he's about.   As I was driving home last night, I was thinking about all the pretty big deal life lessons that were addressed in the film, which is essentially about a man with a dream, stuck in a job he doesn't love…sound familiar?
Here is Magic Mike's advice and life lessons for a fledgling entrepreneur.  Nothing too spoiler-y that you can't discern from the trailers.
People are darn comfortable with you, just the way you are.
Which means, when you try to rise up, change jobs, launch your dream, create a better life for yourself, you're often impacting the way that other people see you and interact with you.  If you're lucky, they'll roll with the evolution and support you.  But, sometimes, they take it personally. They'll think you're criticizing their life choices by your desire to change.  Sometimes if they're a smarmy strip club owner, they'll actively try to hold you down for their personal gain.
Life lesson: you gotta' fight for what you want.
It's cool to have two (or three or four) jobs when you're trying to launch your dream
Money is important! Save what you earn so that when the time is right, you can invest it in yourself.
Life lesson: You gotta hustle & have a good safe.
But don't wait for the time to be "right".
Because it never is. Ever.  The best you can hope for is 'good enough'. You can save, wait, and read economic reports all day long, and all that's going to happen is someone is going to give you a good reason to spend your money before you can channel it into your best life.  "I'm not ready" is fear dressed up in 'rational' clothing.

Life lesson: Leap before you're "ready". 
Trust yourself
Because leaving your established life for the economic unknown of entrepreneurial business owning is rocky.  It's unstable.  It's muddy and confusing and some days, really.freaking.hard.  If you don't trust yourself, you'll never make it.
Life lesson: You are your own captain, boat, sails and wind.  Trust yourself to make it happen.
And seriously, save your money.
Ellen Ercolini is a life and career coach dedicated to helping you figure our your life passion and purpose, so you can have the profession (and profits!) you want.  Curious how she can impact your life? Schedule a free superhero session with her here.