I LOVE ME a creative project!  A challenge and creative expression that grows and transforms you? Yes please.  So when Dave showed up asking to do 50 conversations with a purpose, I of course said yes, I want to be a part of this.
Dave Ursillo is a writer, author and entrepreneur who helps creative self-starters live their leadership through business and artistry.  He's founded the Literati, a very cool and engaging writing community, loves yoga and traveling.   Plus he's super smart.
Here is our video interview of us talking about creative process, our desire and need to connect, owning and expressing your story, talking about being enough, how this relates to online dating, changing lives, and of course, why you need to love and trust yourself.
This is a seriously captivating interview.
Click here or watch below.

Isn't he great?  You can learn all about him here and be sure to check out the Literati Writers.
If you want even MORE Dave, he's leading an amazing call "From Blogger to Author" via the Wildheart Revolution that is is free and open to everyone! Tuesday January 21st at 5pm PST.  CLICK HERE to grab your spot, it's going to be an amazing call. 
I'd LOVE to hear how this interview touched you – leave us a comment to share your reaction!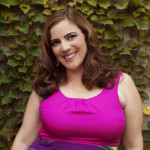 Stuck on your services? I can help. I'm Ellen, Money Making Expert.  I help creative business owners make more money and revolutionize their businesses.  It's my mission to help you triple your monthly income and start really creating the opportunities you want for yourself.  Ready to find out what's possible when we work together? Book your power sesh here.  20 minutes, you and me, totally free.
"Go for it! In fact, if you have ANY doubt that you might not be going in the right direction in your business, all you need is one session with Ellen.  She's not only extremely business-savvy and able to come up with innovative, creative and totally ON FIRE ideas quick-as-all-hell, her razor-sharp wit and relaxed demeanor made the whole session feel like I was talking to a (super–smart) BFF." – Erica