This is a guest post by Erica Lee Strauss, word weaver + copywriter, whom all my clients work with to support their amazing businesses. 
Tell me if you've been there: You've finally nabbed a date from your OKCupid profile and you're about to hit the town, rocking your tried-and-true staple "date" outfit. You're totally thinking: Tonight's the night.
Then you meet the dude and it's actually going really freaking well. Part of you is realizing – this could be it. I mean, not only does he share your obsession with Daft Punk + draft beer – he's laughing at all your jokes? Winning!
You're feeling amazing.  And you should. You're a fine specimen, and any guy would be lucky to have you as his lady.
And then it happens. She walks in. Y'know – that woman. The one who's decked out in Kate Spade from head-to-toe, whose highlights are fresher than Listerine and who sips her cosmo in the most annoyingly cute way. You can just feel his eye wandering and that high you had earlier in the night? Totally gone.
You forget the fact that he told you he's so excited to hang out with you again.
You forget the fact that you have ooooodles in common.
You IGNORE the fact that you're freaking AWESOME.
You're fixated on the fact that when Miss Cute Cosmo walked in, he totally noticed her.
Sound familiar?
Unfortunately, a lot of us get this kinda "image" insecurity in our business, too.
We think a well-designed website is the end-all, be-all of our existence.  We envy people with jaw-dropping headers and cute, script-y opt-in fonts.
But let me fill you in on a little secret about online business:
Your prospects (and your dates!) don't just care what you look like – they care about what YOU – and just YOU – can bring to their lives.
Simply put: You can be the hottest, best-dressed you-know-what on the block, but if you can't hold a conversation? You're not gonna "get the guy." Period.
In online business, that "conversation" is called copywriting. And when it's done right, it's what separates the biz owners who roll in the dough from the ones who can barely land their first client. (Or, y'know, the ladies who meet their future husbands and those who go home to snuggle with Floofy.)
What's copywriting done right? Great copywriting conveys the value of what you (and just you!) can provide…in a way that makes you and your products/services sound like the most fascinating thing EVER.
And it's that  fascination factor – not the pretty squiggly font – that gets people to push "BUY NOW."
At the end of the day, it doesn't matter how fabulous something looks if you don't know how to work that conversation.
You need words on your site that tell everybody why YOU are the one (and only one!) for the job…or they're gonna pass right on by (maybe after complimenting you on your scripty font, but still.)
Unfortch, as biz owners we are often wayyyy too close to our businesses/ourselves to see what makes us awesome.
And just like we totally missed a chance for sweet love because we were worried about the other woman's exterior? We miss out on sales because we're so focused on the packaging, not the value.
It's just like struggling to write your damn dating profile. You gotta know what to share and showcase, and what to leave off the table – and doing it for ourselves SUCKS. How many of us had to have our BFF read over our profile because we really had no clue if what we wrote about ourselves was cute, funny or just plain weird?
Exactly.
That's where professional copywriters swoop in to save the day.
Copywriters are trained to see things about you you simply can't. We devote ourselves to learning everything about you and your business so that we can help you sound like the best version of you online.
(Not to mention, we spend hours reading up on psychology + persuasion + buying behavior + all that other stuff so you don't have to. #Nerds.)
So, the point is….
You need every piece of the puzzle – from a strong message to a beautiful website to copy that actually compels people to buy – in order to make sales.
Getting your website all dolled up is important, but a cute header isn't gonna sell your e-course.
A hot, profesh Facebook ad might bring people to your site, but it isn't gonna drive anybody to press buy.
Or, perhaps my favorite and most relatable example? Fresh highlights might help you bring somebody home from the bar…but they sure as hell aint gonna make anybody put a ring on it. #Truth.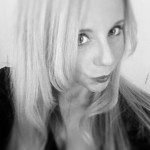 I'm Erica Lee Strauss, pixie-sized word-weaver + copywriter on a mission to help smart + edgy womenpreneurs craft conversational copy that converts. I believe selling doesn't have to feel sleazy, and presenting you + your offerings in the best (spot)light possible is not only okay, it's essential to business success.
Learn how to write your own sassier, sexier copy at http://www.ericaleexo.com.
Incidentally, my Overnight Celebrity package is INCLUDED when you work with Ellen, so win win win.
Ready to rev up your copy on your site, plus get super clear on what you're selling + strategy to launch it far and wide? Book your powersesh, stat.