Gather 'round Creativas, story time.
When I was approaching the end of my coaching curriculum, it was time to think about STARTING my BUSINESS.  It was very exciting stuff, and I wanted to do it right.  I wanted to be a REAL business, you know, with a name and stuff.   So I thought about names, and my life, heart, and personality.  I came up with the PERFECT name to call my business:  Girafa Coaching.  Girafa is giraffe in Spanish, I'm bilingual, and that's important to me.  Plus Giraffes are an amazing and sentimental animal to me + were my dad's favorite animal, so I definitely wanted to incorporate it.  Coaching seemed like a slam-dunk because duh, I was a life coach.
As it turned out, working in the US, Girafa was hard to pronounce/remember/explain.  Coaching also takes a bit of explaining as well.  I was spending SO LONG explaining my biz name, that I wasn't getting to the what I actually do part.   I decided to shift to a simpler, easier to remember, English business name.  The Creative Giraffe was born.  Still on the giraffe-brand, but in English and not as tied to life coaching.
Fast forward 18 months –  I get tons of traffic to my website, but not much name recognition.  I'm asking people to remember two names, mine, and The Creative Giraffe.  And they're not really retaining either.  If I have to choose which name I'd rather have people remember, it'd be mine, because I'm the product.  The Creative Giraffe is amazing, cute, evocative, but unclear what it does and what you're in for.   With my name being the primary business name, that changes.  You want to give people one very clear thing to remember.
This scares me.  It does!  Spotlights have always been an uncomfortable place for me to be.  I was a stage manager in theater because backstage feels very comfortable to me.   But that's not the life I am choosing, or the career I'm developing.  I want to be seen.  I want to be remembered.  My work is good, and I want it to change lives and be easily shared around the world.
So, my new URL is EllenErcolini.com  The Creative Giraffe is always in my heart, and it's time to get more comfortable in the spotlight.
This process has been hard, emotional and frustrating.  I thought I'd share my 5 things to think about BEFORE you name your business, which I wish someone had told me earlier.
What Language Do Your Ideal Clients Speak?
This seems silly but I see so many business owners trying to make a French word work for them, or latin – and they are not French or Italian and don't work in those markets.  My ideal clients speak English, so a Spanish name was ultimately a block.  I know there are some beautiful words in wonderful languages, but if you want your business to be easily talked about, make it easy to talk about.
Is Your Business Name Clear?
Like, does it give people a reason to stay without any other words attached?  Cutesy names are cute, but if it doesn't evoke a sense of WHAT you do and WHY people should stay, you might circle back to branding your name.   Just make sure you don't need to spend time explaining your biz name, it should explain it self.  Remember, clarity always is better than clever.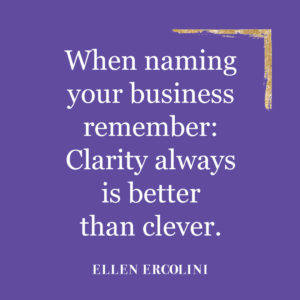 Does Your Biz Name Work For You?
Your business name should open doors, not block them or limit you.  If you imagine being a coach, writer, speaker and mentor, then maybe calling your business 'suchandsuch coaching' might be a hinder down the line.  If you want to be known as like, THE coach for divorced moms, then it's perfect.  I might be biased, but I see SO many sites that are incredibly unclear what they do that I end up navigating away.   I'd hate for this to be your business.
Does it have legs?
Your name should be able to open doors for you (or at least not block them!) – does it have legs to grow on as you grow?  If you're a local based business but wanting to take your goods online this might be something to think about.  Making sure you have a name that can grow with you, and play locally (if needed) and online is important.
Do You Want A Book Deal?
Then yourname.com might be the way to go.  Danielle LaPorte had to shift away from WhiteHotTruth, so did Kris Carr and Alexandra Franzen. These are some seriously accomplished ladies that left their unique biz names for the simplicity and recognition of their names.  It feels scary to start out as just yourself, but it might be perfect.  And spoiler, if you're hoping to get a book deal one day, be a public speaker, or in any way leverage your youness, you're going to need to have a site that is simply your name.
What I know is that businesses shift.  Rebrands are almost inevitable.  Thinking about where you want to be and what you want to do in advance might save you some time and heartache.  Plus, you don't need a business NAME to be a business owner -which I seriously didn't realize until a year ago.   And, don't over think it too much.  It's easy to obsess about a name and not do anything else until it's perfect.  That only hurts you.  To be in business you only need paying customers, not a fancy business name.   So if your stuck on the naming, get some customers, do some work, and see what evolves.
Questions? Want specific feedback? Leave me a comment, I'd be happy to give you my thoughts!