Can I get an amen?
I have just finished devouring seasons 2-4 of RuPauls Drag Race (Season 1 is not available on Netflix, fail) and she has infused me with all sorts of sassy advice and catchy dance tunes.   In honor of the Season 4 finale with aired yesterday (I'm team anyone but Phi-Phi) I thought I'd capture all my learning at the shrine of Ru and integrate it into my Spring Fever series, (missed the kick-off post Date Differently? For you.) consider this a cheat sheet to fabulosity.
RuPaul.  Drag queen, pop music sensation, shoe designer, cultural icon.  She knows a thing or two about life and love.  Having been around the block what I am assuming is many times, she's distilled her core nugget of wisdom down to that key phrase.  It's filled with so much truth. 
"Honey, if you can't love yourself, how the hell you gonna love someone else?…..Can I get an amen?"  is her signature sign off phrase, and it's a powerhouse.
What holds us back from love is our ability to love ourselves.  What you're looking to receive from other people (approval and love) you need to start giving to yourself.  When you love yourself, you're truly free to love others.
She's a genius.  Luckily, she's also given us many other inspirational nuggets to inspire your life and love.
RuPaul's Guide To Love
"You better work."
On the runway, in the challenges, in her music, Ru is always telling you to work it! For Spring Fever purposes, if you like someone, if you think they're fly, turn it out! Work for their love, just like they should work for yours. (This includes working an outfit) This goes hand in hand with…
"Head to toe, let your whole body talk" – "Covergirl" lyrics
Don't be shy.  If you're into it, let your elbows do the talking! (or, err, other stuff.) And look the part.
"Look at me–a big old black man under all of this makeup, and if I can look beautiful, so can you." ― RuPaul
EVERYONE is beautiful, take it from this man in makeup.  If it takes a little extra glam and makeup to make you feel as beautiful on the outside as you are on the in, so be it.   Do what you need to do to let your beauty shine.
"Nobody Wins By Playing Small
Remember Who You Really Are
Fearless And Beautiful" – "Champion" lyrics
You are who you are.  BE YOU.  It's the hottest thing.
"Don't be jealous of my boogie" – "Jealous of my Boogie" lyrics
You've got it, flaunt it.  Pay more attention to what you're working than anyone else.  Other peoples jealousy is their issue, not yours.  Focus on making you as amazing as possible.  Don't be jealous of other peoples boogies either- rock your own look.  See above, being you is the hottest.
"We all have a journey, and it's up to you to see it through."RuPaul to Sharon Needles season 4 episode 13
So true.  You're on your own path, and you are the only one that can walk farther, peer around the curve, do what you need to do to make things happen for yourself.  It's up to you, so make something of it.
Be glamorous, be yourself.
Not a direct quote exactly, but it's exactly what I've learned from marathoning it through 3 seasons with Ru. People want to see your personality as much as your fashion choices.  Let your true self shine though.  If it happens to be wearing a pretty dress, so much the better.
I know you've been watching too! What have you learned from the amazing RuPaul?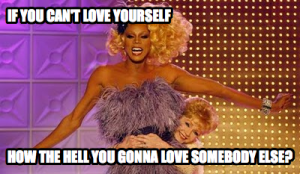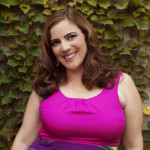 Struggling with your services? I can help. I'm Ellen, Money Making Expert.  I help creative business owners make more money and revolutionize their businesses.
It's my mission to help you boost your bottom line and start really creating the opportunities you want for yourself.  Ready to find out what's possible when we work together? Book your power sesh here.  20 minutes, you and me, totally free.
"Go for it! In fact, if you have ANY doubt that you might not be going in the right direction in your business, all you need is one session with Ellen.  She's not only extremely business-savvy and able to come up with innovative, creative and totally ON FIRE ideas quick-as-all-hell, her razor-sharp wit and relaxed demeanor made the whole session feel like I was talking to a (super–smart) BFF." – Erica