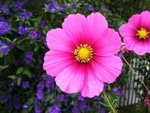 As the New Year was dawning, I found out I'd lost a friend.  While I hadn't seen his face in several years, we had kept in fairly good touch via facebook.  Being dog owners in the same community, we exchanged news about that, and I always scanned for him & his pup at the dog parks.
We used to work together, back before I took 6 months off to travel and volunteer in Latin America.  When I got back and was looking for a full time job, I found what appeared to be a job perfectly suited for me.  However, it required a solid amount of accounting and finance work that I had only tangentially worked with in the past. I needed a job recommendation & some support learning the accounting program, so I called him up.
At a time when only this person, in the entire world, could give me a hand up to get this job, he did. It changed my life.
Learning accounting gave me the skills to rock that job, start my own business and take lucrative freelance jobs when the money got tight.
Was it a big deal in his life? Probably not.  Did it open up huge doors for me? Absolutely. 
Last month on a particularly rainy day, I drove up to the train station by my house.  I felt myself getting sick, and didn't want to walk too far in the rain to get to the train.  If the parking lot was full, that would have been a guarantee.  I got the last parking spot in the lot, and made a swift entry into the train station. There, I found the ticket machines were jammed, thus giving all passengers a free ride into the city.  This is a pretty rare event.  When I arrived at San Francisco, there was a Peruvian gentleman playing his guitar and panpipes, with the guitar case woefully empty.   I took all the cash I had just saved not paying extra for parking or the train, and put it in his case.  The smile I got mid-song was so sweet and relieved. He seemed genuinely touched.
Was this a big deal in my life? Not really.  Did this change his day, or maybe week? I'm not sure.  I'd like to hope so.
Your impact matters.  When you can do something, do something. Don't just sit back and assume someone else will come through, or show up, or donate.  If we all waited on someone else, nothing would happen. You never know when you're going to change someones life.
Thanks for everything Charlie ♥
Ellen Ercolini is a Career and Life Coach dedicated to helping you figure our your life passion and purpose, so you can have the profession (and profits!) you want.  Wanna rock your New Years Resolutions? Schedule a free superhero session with her here.