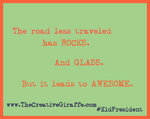 It's been a strange week around these parts.  Full of ups and down, lulls and wild spurts of inspiration.  In one of the lulls, this video was sent to me.  5 times.  Apparently, my friends though I would like it.   I am not a huge fan of precocious kids doing grownup stuff.  So the image didn't grab me.  Also, sometimes I don't watch internet videos.  I'm more of a words girl, I guess.  I'm sharing this with you to say I had a lot of resistance to watching this video.  Finally, in a fit of impatience and boredom, I clicked play.
Stop being boring.  Watch the video. If you've already seen it, skip to the commentary below.  No cheating! 
What grabbed me is that he points out that the road less traveled, HURTS.  Yeah.  It's not easy.  There are ROCKS.  And GLASS.  It's less traveled and less used.  But it leads to awesome.  We are all on long journeys, and if we just sat down and waited for the end to come meet us, we'd be sitting, pouting, watching others pass us by.   How tragic.
This was clearly, exactly what I needed to hear.  Which is why I let it sit in my inbox for many days without listening to it. Because sometimes what we most need to hear, is what we resist the most.  In my case, it was a peptalk from this Kid President.
The world needs your crazy idea, you have the capacity to make it awesome.  Boring is easy, be awesome.
In my internet travels,  I also came across this gem – also from Kid President.  25 ways to make this year awesome for other people.  Yeah.  Paying it forward.  Of course I love it! Give it a go…especially if you think you don't need to 🙂
My favorites include: smile, learn to pronounce peoples names correctly, CUPCAKES! for no reason at all, musical tributes, free hugs.
We've all got problems.  The road less traveled is hard.  We can cry about it, or we can DANCE about it.  I'm off shaking it in the kitchen, dancing my problems outta my system.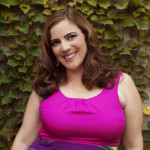 Stuck on your services? I can help. I'm Ellen, Money Making Expert.  I help creative business owners make more money and revolutionize their businesses.
It's my mission to help you triple your monthly income and start really creating the opportunities you want for yourself.  Ready to find out what's possible when we work together? Book your power sesh here.  20 minutes, you and me, totally free.
"Go for it! In fact, if you have ANY doubt that you might not be going in the right direction in your business, all you need is one session with Ellen.  She's not only extremely business-savvy and able to come up with innovative, creative and totally ON FIRE ideas quick-as-all-hell, her razor-sharp wit and relaxed demeanor made the whole session feel like I was talking to a (super–smart) BFF." – Erica