Happy Friday Creativas!
Last weekend I was at an incredible Coaches Summit, which was 4 days of non-stop leadership talk and connection with other Co-Active Coaches.  It was inspiring, but exhausting.  This week I've barely done anything besides work with clients and sleep.
I really walk the line between introvert and extrovert.  While I'm at the big event? Extrovert! Talking, making friends, hatching big plans.  And then as soon as the excitement dies down, Introvert! I really do recharge by taking time to myself to recover, and I often forget how exhausting these big events can be for me.
Which is a long way of saying there is no red hot business advice + strategy for you this week, I am wiped out.  But, there are loads of cool things around the internet that I think you'll enjoy, so I thought since this is Friday-fun-day, I'd take a moment to point you towards them.
Money Management. How the heck do you manage all that sweet money your making, in a way that makes your life easy breezy for tax season?  My girl Danetha has you covered in this comprehensive 'Make Your Biz Legit' money course starting May 6th. She makes money management fun + clear, and is all about helping you KEEP more of it.  Yes please!
Run Boy Run – if you haven't heard of them (and like folk/bluegrass/roots/GORGEOUS music) you will soon.  They are super talented friends of mine from my adventuring days in South America.  They are kickstarting their second album – their music is oh so worth supporting, and it'll be exciting to say you knew them when.  Plus, seriously, they couldn't be nicer.  Garrison Keillor agrees with me.
Space + Energy clearing.  This is something that was first introduced to me by Limitless Megan as a way to 'remove all those invisible, emotional sweaters you're still wearing and are effecting you'.  I was mystified, but over the last year doing regular clearings for myself + my home, I've seen a real energetic shift.  And since I spend so much time here, that's really important to me.   One of my amazing clients Erica has started space clearing + energy clearing professionally, and if you're interested in learning more or getting one, she's your gal.
Crazyegg.  I might be late to the game on this one, but this is an application that seems as essential to me as googleanalytics.  Crazyegg tracks where people are clicking on your site – so you can see where they are clicking – even if there's no hyperlink there! And just as importantly, where they're NOT.  Opt-in box buried in your sidebar getting no love? Now you know for sure.
Leadership.  The theme of the conference I attended was from 'Me to We' – Henry + Karen Kimsey House unveiled a new model of leadership, one that gives you the opportunity to lead not just 'from the front of the room' – but multidimensionally.   Here is a video of me talking about the new model and what it means to me.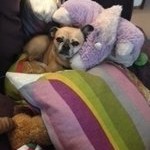 Lastly, here's a picture of my dog Huxley snuggling with all of his favorite things.  I hope your day is relaxing and surrounded by your favorites, and that this article helps you discover a few new favorites.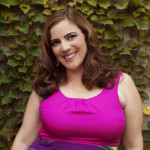 Ready for some one on one support to propel your business growth? With a side of guest posting strategy?
I'm Ellen, Money Making Expert.  I help creative business owners make more money and revolutionize their businesses.
It's my mission to help you boost your bottom line and start really creating the opportunities you want for yourself.  Ready to find out what's possible when we work together? Book your power sesh here.