This is a guest post by the one and only Elle Griffin, of Happy Yogis.  She is offering up her expertise on keeping your body relaxed and well this Holiday Season.  She's even created custom images and a podcast to help you master your bliss!
It's here!! The Holidays!! My favorite time of year… Unfortunately, it also happens to be one of the most chaotic times of year. Family, shopping, travel, and that drunken old uncle mean tensions can run high. But we don't want that to get in the way of our Christmas joy right?? Right. So I'm adding a little yoga sequence to your toolbox to help you love your way through the holiday season. It only takes five minutes, involves five poses, and at the end you will feel amazing. Ready?
1. Checkout from Family Drama with a Silent Meditation
Can't keep your head on straight when everyone is stirring up a ruckus? Let's forget those woes for five minutes and let yourself in on some self-love. Sit cross legged with both hands on your heart. Count to five as you inhale. Count to five as you exhale. Count to five as you hold. Repeat for one minute. Try to focus solely on breathing and counting. Enjoy feeling your chest move in and out and let go of all your worries with each exhale. Ahhhhh.
2. Balance Out the Booze with Bridge 
We both know you've had a glass or two more wine thanks to all the Christmas festivities. As you should! But get some detoxing in by holding a few sweet bridge poses. Elevating your heart helps your precious lymph nodes get to cleaning while toning your liver and stimulating your digestive system. It's a Christmas miracle!  Touch your heels to your hands and then push up while pulling your shoulders under you and clasping your hands. Take a few of these. Your body is loving this.
3. Wring Those Cookies Free with Twists
Have you been sneaking some of Santa's treats? I'm sure he won't mind; just make sure they don't stop up your system on their way out.  The sudden savoring of sugar plumbs is making your intestines a bit sluggish and this isn't exactly the time you want that holiday bloat. Wringing out your intestines and colon gets your body back in line. (This is also a great one to do after a bit too much roast beast). Tuck your knees into your chest and then pull them to the left with your left hand. Look to the right and extend your right arm. Repeat on the other side. End with a little windshield wiper action to keep the colon happy.
4. Stretch Out the Anxiety and Invite In the Joy with Happy Baby
Finding the perfect gift for your loved ones while preserving your bank account can start chipping away at your happiness. Stretching out your hips (where we hold most of our stressors) will start wiggling out that frustration while opening up your heart will start letting in the joy. Hold your feet in your hands and smile! Sink into your hips to feel your woes unravel and your heart open up. Inhale happiness and exhale stress.
5. Forget your Shopping Lists and Peace Out in Supta Baddha Konasana
Time to relax it all out and forget all those things you are trying so desperately to remember. Let gravity do all the work with your heels to your hips. Relax your knees to the ground and put your left hand to your heart and your right to your belly. Inhale through your belly and up into your chest. Then exhale out of your heart and out through your belly. Feel your hands rise and fall with your breath and soak in the peace and quiet.
Here's what they look like & if you click below I've created a 5 minute podcast to talk you through it!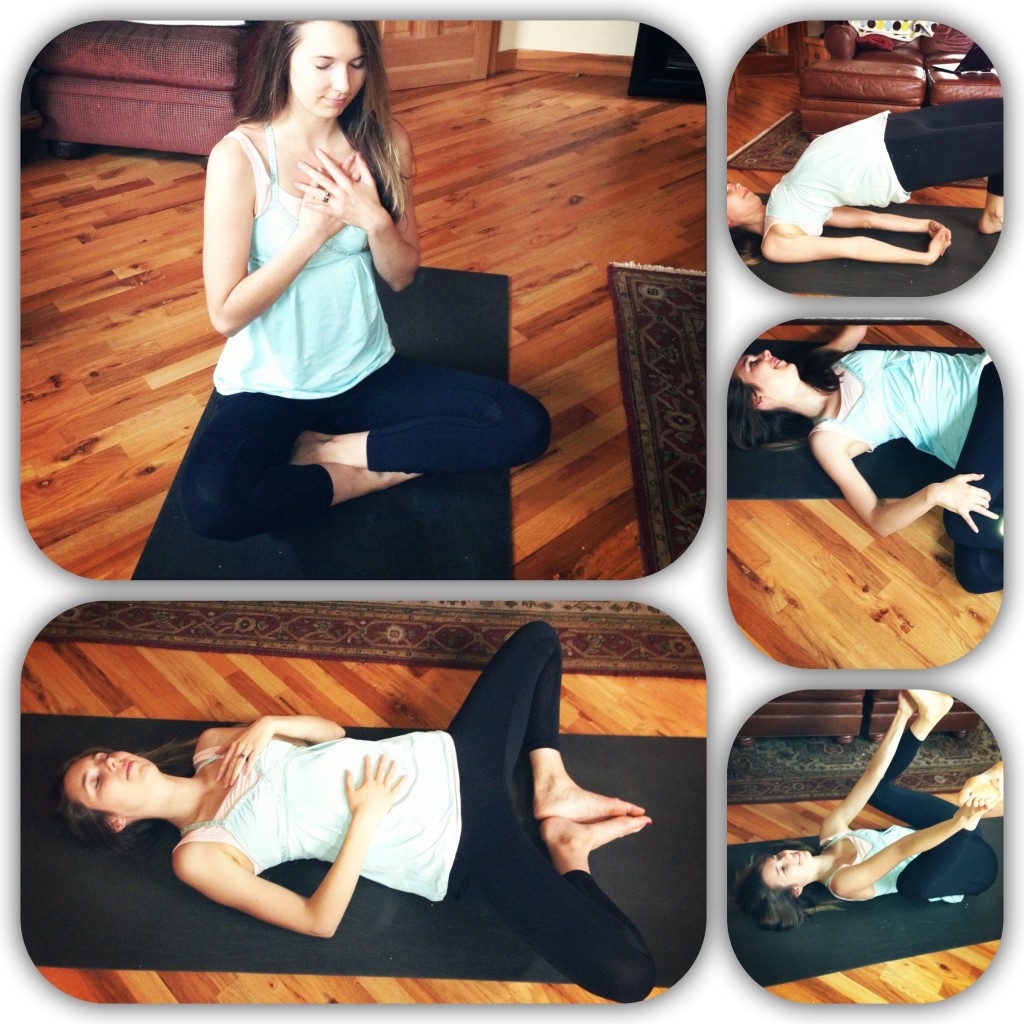 See there? All you needed was a little breather. Five poses, five minutes, and you are ready to rock around the Christmas tree. I hope you enjoy everything this season has to offer!
Lots of love in your direction,
Elle
I am a wellness coach and yoga instructor in gorgeous Marin County, California. My life work is to inspire happier, healthier lives through my three-month wellness revolution, yoga where you want it, and my blog. Mention this post for $100 off my January program!