So the other day I was at my local cupcakaria, James and The Giant Cupcake.
They are insanely creative, talented bakers and designers, and they always have a limited supply of their unique confections.  The cupcake I was sinking my teeth into was the St. Patricks Day special.  It was heavenly.  Chocolate cake, cream cheese frosting, chocolate sprinkles and such to make it festive.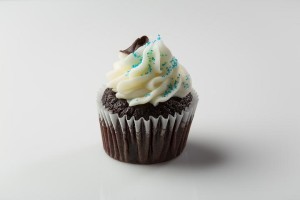 "I wish I didn't have to wait till next St. Patricks Day to eat this again." I thought as I left the store.
A few weeks later I was back picking up cupcakes for a birthday party.   Wishing I could buy more of those St. Patricks Day specials, I perused the shop.
I realized that they had a NEW special out,  this time for Easter – and guess what? It was chocolate, with cream cheese frosting, and some easter themed sprinkles!
Mind.Blown.
They had figured out their most popular combination, got some fancy sprinkles, and were charging $1-$2 dollars more for it.  
I love this.  Soooo much.  And not just because this is a delicious combination that I didn't have to wait another year to eat.
Here's why:
They figured out what they are GREAT at, and are charging more for it.  YES.
They always have a Special.  So there's always a shiny, ooooo if I don't get this now it'll be gone forever reason to buy the more expensive cupcake.
It's not complicated.  She's not inventing a new THING every few weeks.  She's dressing up what she knows people know and love in new and creative ways.  Giving them what they want as well as delighting them.
They have figured out what she's great at, that people will pay more for it, and delivering it in creative fun ways.
So my challenge for you this week, besides not going right out and eating cupcakes after reading this post (or do! And if you're in the Bay Area, go to

this inspiring shop

) is to figure our what your Special is.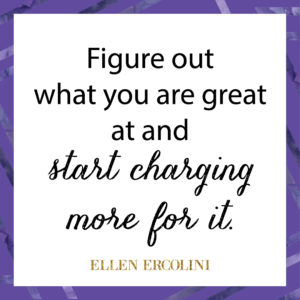 Follow these three steps to identify YOUR special cupcake

What's the thing you do exceptionally well? In this case, it's cupcakes.
What's the thing that people want? Chocolate with cream cheese frosting, droool.
Then ask yourself how you can deliver in many helpful and creative ways.
Once you've got the answer to those questions, create a special!  Something seasonal and fun that inspires people to buy what you're selling.   I'd love to see what you create!  Post the results in the comments section and I'll be showcasing them on social media.