I work with a lot of really smart, talented people building their businesses.  And in the first few years of business, they have the totally understandable desire to please everyone. They want to help everyone, they want to work with everyone, and they're willing to do whatever it takes to make some money and get their business off the ground.
Which, I can understand because we've all been there, and when you have nothing, it feels natural to try to do ANYTHING to make something happen.
But you end up sacrificing yourself.  And as your business grows, that adds up.  You end up without any boundaries between you and your clients and your work. Burnout central.
This is a problem because it never lets you fully unplug, or stop working.   And that is terrible for you, your relationships (because you never know when to plan around your hectic, always on work schedule), and ultimately, your clients, because if YOU'RE rundown, you won't have as much to give.
It also can undermine your professionalism.  After you book a client, and they are ready to work with you, you say "I don't know, when works for you?" It's awkward.  And it takes up a lot of time on email.  Potentially getting this reply "thanks for being so flexible! Can we meet at 8pm on Tuesday?"   And honestly, do you really want to take a client call at 8pm on Tuesday?
But you want to work with them! You want to be flexible!  I hear your cries, and I've been in your shoes.  And if you struggle with boundaries, saying no, unplugging from your work, and feeling professional about your work, all* your problems are about to be solved.
Amazing business owner, meet an online scheduler.  Online scheduler, meet the folks that desperately need you.
Yep.  Online schedulers are a game changer.  Here are the many ways I love them and they've changed my business:
They let me determine when I work. Working from home, for myself, it's so easy to work all.the.time.  Which at first feels great, but then, it sucks because I am the type of person that needs extended quiet time to dive into and work ON my business, creating new and interesting content, partnerships, programs, etc.  If clients are popcorned all over my calendar, I never really get the time to dive in.
So, I now work with clients certain days of the week.  PowerSessions have their own time frames that I schedule them, and I have a few full days reserved for moving my business forward.
I also stop working with clients at about 3pm.  Which any former co-worker of mine can tell you is my fuzzy hour.  I'm not ideal at 3, and I no longer have to muscle through! I just, don't let clients book with me then.   My whole life feels easier because of that one shift, and it's entirely thanks to my online scheduler that blocks that time off.
It makes it so, so easy for me and my clients to find a time that works for us.  My clients mostly live in different time zones and have busy schedules.  Sending my wonderful clients one link for them to choose a time that works for them has cut down on hours of back and forth emails I used to send.  It's also eliminated the "I thought we said 9PST…oh, EST?" human error conversation that can befall email scheduling.
They send reminder emails. I haven't had a client miss a session with me in years.  And it used to happen monthly.  I think this is partially me really stepping into and owning my professionalism, but also, my online scheduler empowered me to do that!  And they send reminder emails, so if my client scheduled something way in advance, they get a nice reminder.
The best part, is I never need to explain the fact that I just don't want to work at 8pm on Tuesday, or 3pm, any day of the week.  Because it's no longer about when I want to work, it's about when I'm available.  Which my online scheduler manages beautifully.   It feels professional, easy and clear to me and my clients.
And that's REALLY what you want, is to make it so easy for your clients to work with you.
So if you're struggling with boundaries, or not having a set schedule, or people pleasing (sure I can work at nighttime…) you need one of these.  It'll save you hours and energy.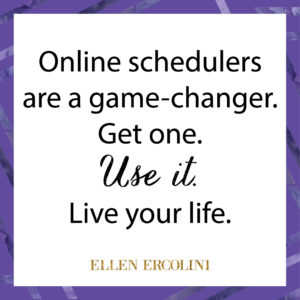 Ready? Here are some to look at getting you started:
Appointlet – simple and cute, I like it because they make it super easy to customize the button.
ScheduleOnce – totally robust, and I love that I can have different calendars and availability for different services.
Acuity – I didn't love how they sent out emails, but they just redesigned.
All of these will sync with many calendar types, manage time zones, send reminder emails, and most importantly, have a free version you can try out.
So pick one and give it a go, and enjoy your newfound schedule freedom to do all those other things your business needs. 

Want to beat the summer slump and strategize your Fall?  
I'm Ellen, Money Making Expert.  I help creative business owners make more money and revolutionize their businesses.
It's my mission to help you boost your bottom line and start really creating the opportunities you want for yourself.  Ready to find out what's possible when we work together? Book your power sesh here.  20 minutes, you and me, totally free.
"If you have any struggle with being stuck or not knowing where to focus to make money in your biz, contact Ellen immediately. Best money you'll ever spend." Jessica Kupferman, Lady Business Radio
*totally not all but some, for sure.