I am part of a few Facebook groups – and one of the most wonderful ones is Marvelous Brand Builders, run by Suzi Istvan.  What I love about it is every month there's a challenge, some sort of action item that helps us take action and grow our businesses.
This month, the challenge is to let your clients see you in a bigger way.
Gulp. This can be harder than it seems.
I'm accepting her challenge by making a video and outing myself as someone who spends too much time at home, but also shows up to business conferences without my besties. I am calling on you to leave the (metaphorical and literal) house.
It's the pep talk I need sometimes, so maybe you do too.
Let's all stop spending so much time isolated in our heads, ok?
Ways to leave the house: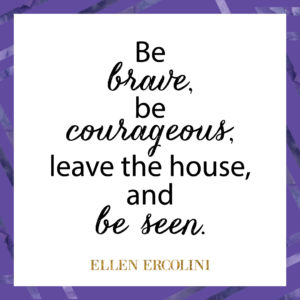 Grab your laptop and hit the road!Spend more time working outside of your house – make conversation with the folks around you.  Tell a few of them you are starting your own business or work for yourself.
Go to an event, it can be local or a bigger business conference.   Either way, talk to people.  Share what you're up to and be curious about them.
Tell more people in your life what you're up to.  Don't lean on all of them for business support, but do practice being open and honest about what you're up to, and why you're excited about it.
Don't cut off the energy source of connecting with other people.  We spend too much time behind the computer, and it can erode our energy + sense of self.  
So be brave, be courageous, leave the house and be seen.
Remember!