MY CLIENTS ARE ROCKSTARS. ENTREPRENEURIAL DAREDEVILS READY TO INVEST TIME AND ENERGY INTO THEIR BUSINESSES. 
They are on fire to grow a business that gives them the financial stability and lifestyle they long for. They are in it for the long haul, but are stuck on what to do right now. They understand there's no such thing as overnight success seven steps to seven figures. They have all the pieces of a business, but it's not working together and growing in the way they know it could. They are sick of formulas, group programs and cookie cutter approaches to business growth.
They are on their own, deeply personal, custom journey. This brings them to me.
Today we're talking with Karen Pery and Gary Maher, founders of Into The Fire Surf Retreat.  They share in their own words what it was like to work with me + how I helped them increase their profits by 500%.
What were you struggling with before you hired me? Specificity is good.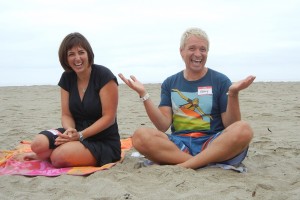 Before we hired Ellen, we had been developing and growing an in-person surf + leadership retreat. We went from investing our own money into it (read: no profits), to earning a little above break even, to barely above break even as we increased costs but kept bumping into the same challenges with what we felt like people were willing to pay for our amazing transformational beach party – we also had difficultly enrolling our ideal clients. The program we were running was fantastic, and the results blew our minds, but we struggled to make it work the way we wanted it to be – maybe we didn't know what our impact was and weren't quite sure we knew what we wanted.

What were you hoping to get out of working with me?

Clarity with a capital C. After spending time with Ellen, we felt like she could help us see what we couldn't see to turn our retreat into a wildly satisfying business opportunity.
Did I deliver?
Totally.
What did you like most about the process?
Honesty, asking great questions, really helping us get clear on who benefits most from this retreat, and probably most of all, that you saw our strengths and uniqueness as integral, core definitions of the experience of us which extends to the definition of our brand.

How did our work together impact your confidence/being more YOU in your business?
We believed you and were willing to see ourselves the way you saw us – and we weren't tempted to go back to our old ways of doing business since the new way was much more appealing and we were determined to make our business work for us.

What were some high impact changes that you made in your business as a result of our working together?

Instead of seeking out enrollments one by one, we began approaching individuals to bring us a group committed to doing the retreat together.
Once we had a group, we created the exact experience we wanted them to have – which took our event from a one day retreat to a weekend, women's only retreat.
We built on the strength of our relationship with each other and with others, and enrolled people through direct, personal conversations. Since you pointed out that some of our magic is how we are with each other, we talked to prospective participants together whenever possible.
We created videos and sent them to our participants and potential participants and shared them with our people – we even personalized them, and shared our message in a new way. People seemed to appreciate the personal touch.
We stopped offering discounts, period. Everyone paid the same glorious fee, and we felt like what we charged allowed us to create exactly the weekend we wanted to give. We stood behind the value of our work – even with the Canadian dollar in the shitter and people freaking out about the cost.
How many more clients did you book? How much more money did you earn after working together?
We actually booked fewer clients this year, but our profits grew exponentially – like by 500%.
If you have a group program, how did filling it up go?

We took a totally different approach – so filling it was actually pretty easy considering what it felt like in prior years.

Did you create a new killer offering?  How did that go?

Same killer offering as we had before, but made even more spectacular because we customized and hand-crafted the program for the group who said yes.
Anything else not captured here that's a tangible result of our work together?

We are building on the success of this program with our upcoming offerings – any future Into the Fire Surf Retreat weekend will be a 3-day event for women. We know the value of our work, and we know our brand – future Into the Fire events will be branded as Into the Fire (working on a super cool new logo) as its own entity, not just as a collaboration between our two distinct brands.
As we grew this retreat, we also discovered new ways for us to work together coaching the relationships behind business partnerships under the Into the Fire umbrella.
If you'd like to read more client success case studies, you can find the entire series here.