My clients are rockstars. Entrepreneurial daredevils ready to invest time and energy into their businesses. 
They are on fire to grow a business that gives them the financial stability and lifestyle they long for. They are in it for the long haul, but are stuck on what to do right now. They understand there's no such thing as overnight success seven steps to seven figures. They have all the pieces of a business, but it's not working together and growing in the way they know it could. They are sick of formulas, group programs and cookie cutter approaches to business growth.
They are on their own, deeply personal, custom journey. This brings them to me.
Today we're talking with Emily Belyea, Web Designer.  She shares in her own words what it was like to work with me, and ever since we worked together she's been on fire.  Her business has surpassed her office job income, she's booked out months in advance, and in the midst of all this has moved across the country with her man and is completing this very cool project.

What were you struggling with before you hired me? Specificity is good.
What wasn't I struggling with? My offerings were unclear, I was attracting and accepting projects I wasn't excited about, I didn't know how to sell the projects that I was excited about, and I was scared of marketing myself. All of it had me trapped in a feast or famine cycle that was starting to suck all of the fun out of being a business owner!
What were you hoping to get out of working with me?
I was pretty aware of what I needed to do to turn my business around, but I lacked the tools and actionable advice to actually make the turnaround happen. From our work together, I wanted to get those tools and action items.
Did I deliver?
Hell yea, you did!
What did you like most about the process?
My favorite part of your process was watching your actionable advice work. Your sales strategies and suggested language in sales conversations worked so well that it kind of felt like a magic trick. And once I started winning the kind of work that I wanted, I started having WAY more fun.

How did our work together impact your confidence and being more YOU in your business?
I've always considered myself to be a really confident person. In entrepreneurship however, I'm confident person until I'm not. Just like many other entrepreneurs, I struggle with allowing criticism and fear to get the best of me, and then every time they do, I begin the process of rebuilding my strength to push on. It's a cycle.
In hiring you, I wanted to break out of that cycle. Our work together was kind of like starting to work out again after not being active for a while. When we began I was hopeful and excited, but a little overwhelmed. There were so many obstacles to overcome and I was only at the starting line (ugh.) Once I started to see real results from applying your strategies, I changed my tune.
The success from my sales conversations made my motivation and momentum soar. Then, when I began booking clients 4 weeks in advance and then 8 weeks in advance, and now, 3 months in advance, I've finally reached a point where I can say that I am a strong and able-­bodied entrepreneur, ready and comfortable to face new challenges. (woohoo!)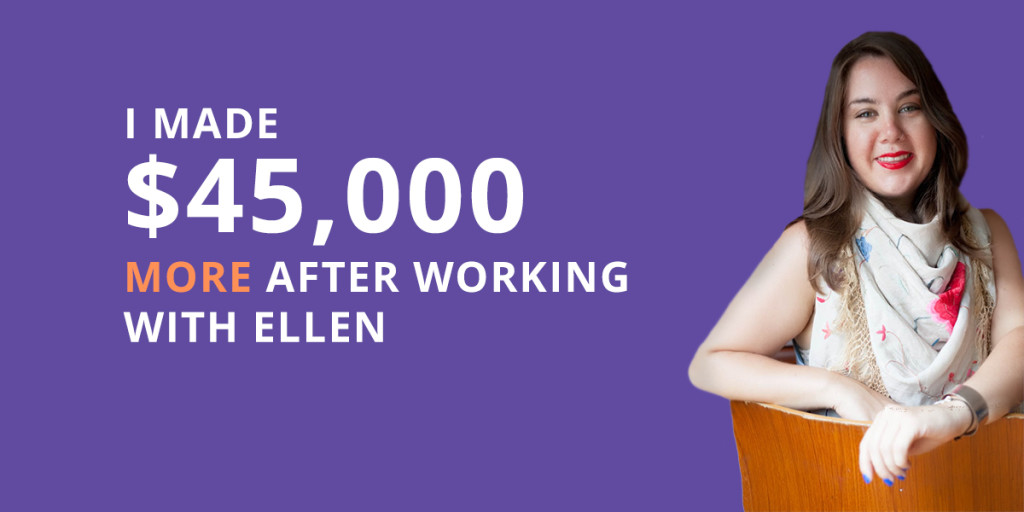 What were some high impact changes that you made in your business as a result of our working together?
● The way I schedule my clients and accept payment: this helped me to better organize my time and break out of the feast or famine cycle.
● I have a social media presence that is an impactful, but not overwhelming part of my workflow: I finally have committed to marketing myself on the platforms that I want to use, instead of every platform in the world that I think I should be on.
● I know how to lead a sales conversation and keep control over it.
● I understand the importance of understanding and valuing my self-­worth, and how that positively affects my business.

How many more clients did you book?
In 2013, I was working a full time job for someone else and took on 10 freelance clients on the side to help sustain my skills and bring in extra money. Since working with Ellen, I've worked with 20 freelance clients, had no need for a full time job working for someone else, and made $13,000 more than I did last year.
How much more money did you earn after working together?
In 2014 I will make $13,000 more than I did last year, when I was in an office job and working for someone else. It should also be noted that my 2014 income was earned over the course of just 9 months, as I spent the first 3 months of the year preparing for the launch of the business! If I were to compare my income this year to just my freelance income in 2013, I made $45,000 more after working with Ellen.
Did you create a new killer offering? How did that go?
I created a website starter kit option for entrepreneurs who have a clear vision for their website and brand, but need help with putting it all together. I soft launched it to a small group of business owners in September, and it sold out! What was originally supposed to be officially launched in October has now been pushed to February of 2015, due to the demand. To get updates on the launch of the starter kit, sign up here!
Anything else not captured here that's a tangible result of our work together?
I should also mention that working with you has helped me to vastly expand my network of small business owners. The community that you have built and continue to grow for your clients is so unbelievably supportive and rewarding. Thank you!
If you want to read more client success case studies, you can find the entire series here.